Cards images are printed onto larger cardstock then cut to preferred card size with round corners, this process is not perfect & drift is possible in any direction so most Print On Demand have 3mm (0.125in) accepted off center drift/shift.
Meaning img you need to submit is usually around 6mm (0.25in) larger dimension than your expected printed card size.
That's why card printers use Card Templates with marked Printing guidelines for creating your tarot card art & design layout, with marked image size, cut line & so called safe area (usually within around 3mm on each side of expected cut line) to ensure you place all important img part inside this inner doted line space & extra space around edges (usually around 3mm on each side of expected cut line) is so called bleed area expected to be cut in printing process & not present on printed cards unless there is drift in which case it serves to make drift less noticeable & prevent white lines showing around card edge. (here are some pictures to give you idea!;) download full size on pic here!;)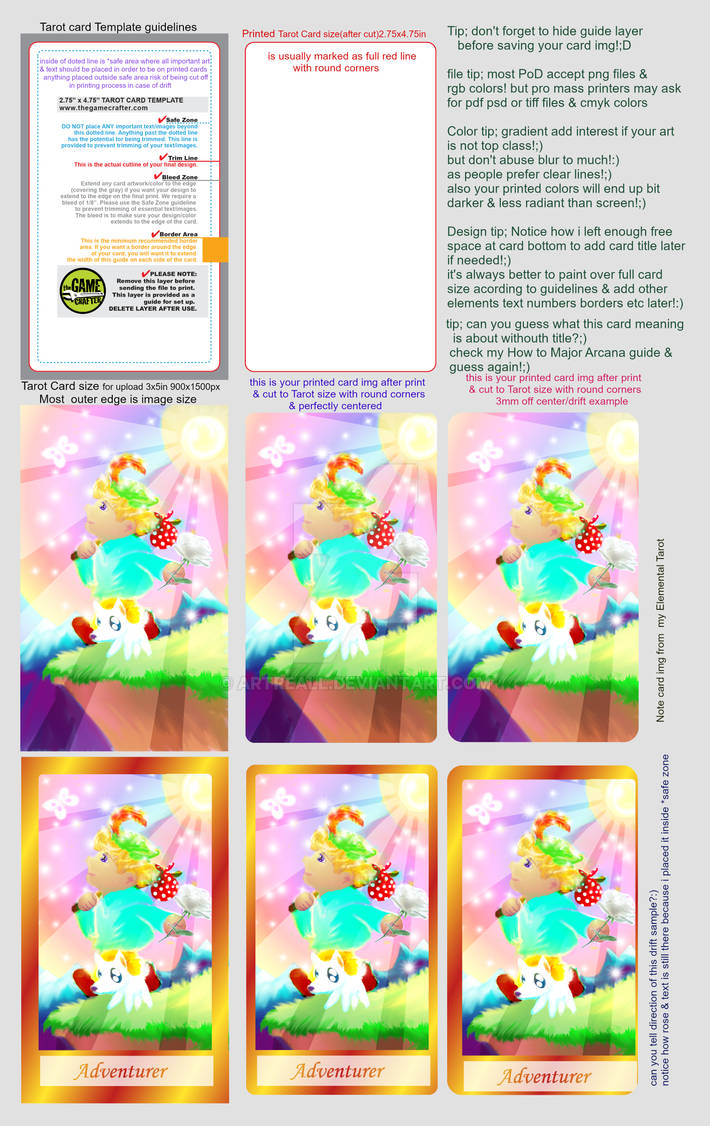 1st pic is card size you need to upload, 2 is printed card size & 3rd is drift sample!;)
also top picture line is borderless & modern gold borders & text design &
bottom pic classic white border & text box design
last pic is modern style borderless card img & white bottom text line:
Note: card img is from my Elemental Tarot
Correct Paper size for painting Tarot card depend on your card size preferences & printer card Template you'll use.
Start by downloading correct card size Template from thegamecrafter that you can print and use for reference; https://www.thegamecrafter.com/help/templates as imo most cards sizes are standardized & I recommend these but if you intend to print with specific printer ask for their card templates & print requirements (including preferred image quality standard for print is 300dpi & usually png or other format!!;) & be sure to check that card template size in pixel for proportions if you are working larger format or traditional media!;)
Here are some standard card sizes info in inches cm & pixel size with 300dpi resolution with img proportions you need to upload for better understanding how printing cards works;
But image you need to upload to printer is bit larger (usually adding 6mm or 0.25in to card img dimensions )
=3x5in (or 76x126mm) & given in pixels; 900x1500 & printed with 300dpi (note meaning 1inch covers 300pixels!;)
so here for Standard Tarot size your img/paper size proportion should be 3:5

Bridge card size after cut; 2.25x3.5in (57 x 89mm), img size you need to upload 2.5x3.75in or 750x1125pixels, proportion 2:3

Poker card size after cut; 2.5x3.5in (64x89mm), img size you need to upload; 2.75x3.75in or 825x1125 pixels, proportion 11:15

mini card size 1.75 x 2.5in/4,44x 6,35cm, img size you need to upload 2x2.75in or 600x825pixels, proportion 8:11
tip; I don't recommend painting in mini size & it's good to know Tarot size can be easy resized to poker and mini! And poker/bridge size cards have best printing price + people luv smaller size so be sure to consider this eventually!;)
Note these numbers are minimum requirements if you make your art digitally! You can make it larger or non digital/ traditional way but keep the aspect ratio! & even if you don't stick to this as there is always resize or other option to fill free space!;) will share my *method in some of my next post!; )
Printer tips;
*playing cards stock including Tarot are actually made from 2 layers of cardboard glued in the middle with carbon based glue aka black core to give it snap & durability & enable long use!:)
*graphic designer on fb explained curved card stock is printer issue with paper printed on the wrong side of the paper grain as you should always print against the grain, not with it, otherwise, it leads to bending.
*there is also synthetic Art paper options that works well!:)
* Printed colors are called cmyk & usually much darker and less vivid than you PC screen rgb colors that use screen light!;) so best to keep your colors bit lighter also printer may blend similar color shades/gradients and flatten you color!? & type of cardstock & lamination also affect printed color so test print is must & will give you best idea about how your printed cards will look I recommend http://www.drivethrucards.com/ (my fav! as they print any number of cards & have best shipping for publisher home address!;) btw be sure to pick Embossed Card stock as those are best!;) you can also order your test print from thegamecrafter, printerstudio or makeplayingcards (best selection of cardstock & extra options!;) just be sure you are using *linen cardstock or specification you intend to publish for best idea how your finished art will look like!;)
* CARD STOCK Quality is determined by card core & finish! SIZE SHAPE & PROPORTIONS are also important & determine your print cost as well!
So do your homework first and check POD templates & printed card specifications!
Ask for; black/carbon core as best & linen (Embossed canvas like!;) texture card surface is my fav & recommended!
Avoid; anything less than 300gsm, art paper, gloss finish & square corners!
also be sure to check box options quality & booklets & any other extras options & price as well as shipping/fulfillment option!;)
Read my next post for info about: